Fire Sensing & Suppression Systems
The first step in putting our fire is to identify the situation. After that, activate the occupancy alarm and then notify emergency responders. This is where a fire detection and alarm system comes in very handy. A variety of system types and solutions are available depending on the parameters of the protected zone. Because it is designed to prevent a fire from spreading and inflicting damage, it is referred to as a fire suppression system. Preventing the fire from spreading reduces losses and provides emergency crews more time to respond.
Fire Triangle: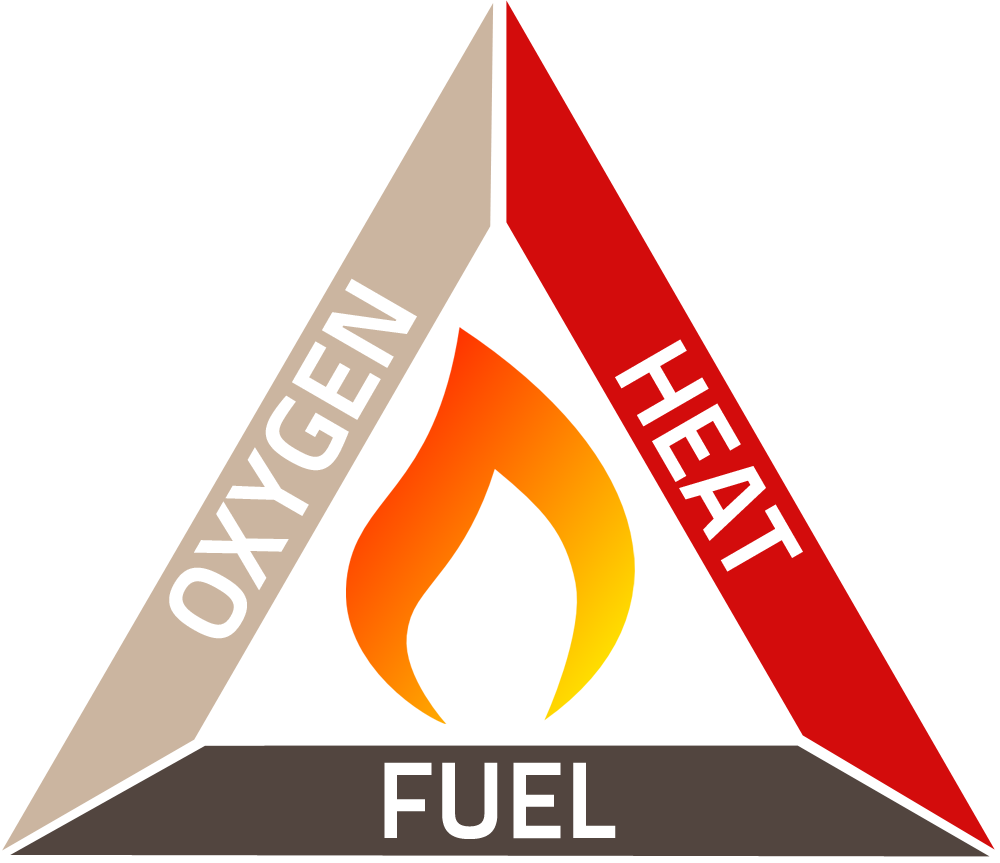 The fire triangle is made up of three elements: oxygen, heat, and fuel. You get a fire tetrahedron if you add the fourth element, the chemical reaction. To start a fire, these four elements must be present at the same time:
Enough oxygen to keep the fire going
Enough heat to bring the material up to its ignition temperature
A fuel source or flammable material
A chemical reaction between the other three elements
The fundamental thing to remember is that if you remove any of these four items, you will either not have a fire, or it will be extinguished. Extinguishers put out fires by removing one or more elements of the fire triangle/tetrahedron.
Classes of Fire: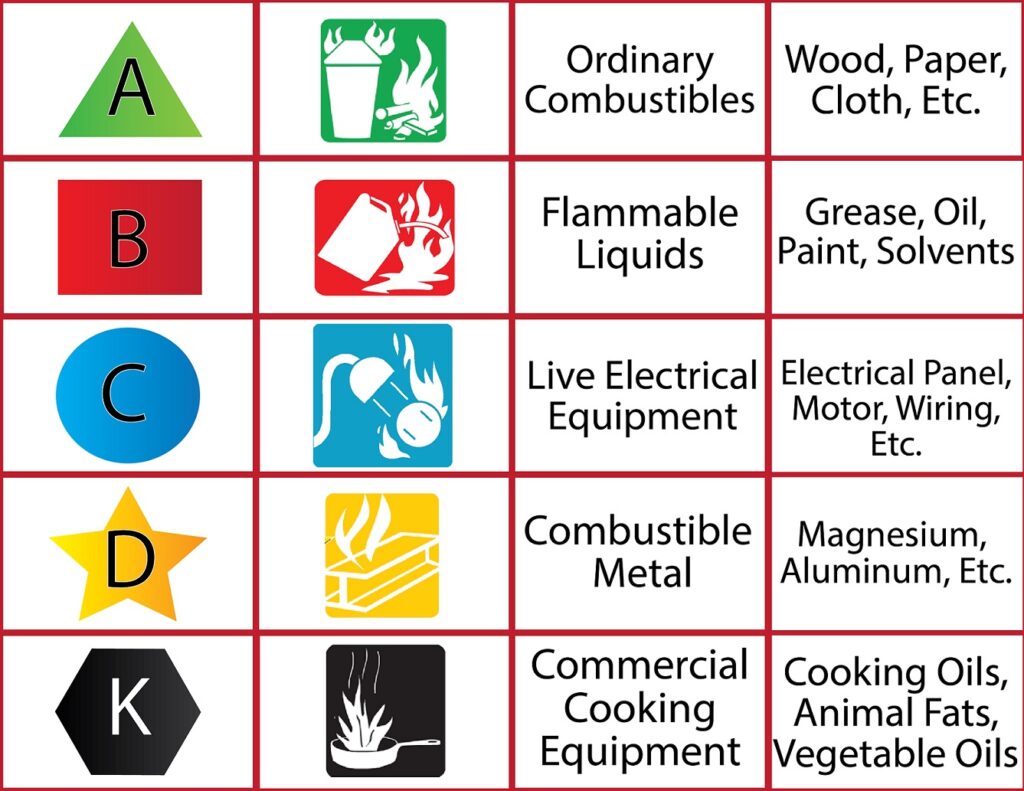 Fire extinguishers are designed to tackle specific types of fire. Extinguishers are labeled with pictorial symbols indicating their use against the specific type of fire. There are several different classes of fire depending on the type of material and fuel for combustion and several different types of fire extinguishers. There are separate standards for the United States and Europe.
Class A (A for "Ash") – Ordinary Solid Combustibles such as Wood, Paper, Cloth, Rubber or Plastics
Extinguishers: Water, Dry Powder, Wet Chemical or Foam
Class B (B for "Barrel") – Flammable Liquid such as Petrol, Diesel, Petroleum Grease, Tars, Oils, Oil-based Paints, Solvents and Alcohols.
Extinguishers: CO2, Dry Powder or Foam.
Class B (US) / Class C (EU) – Flammable Gases such as Propane, Butane or Methane.
Extinguishers: Dry Powder Only
Class C (US) (C for "Current") – Energized Electrical Equipments such as computers, servers, motors, transformers and other appliances.
Extinguishers: CO2 or Dry Powder
Class D (D for "Dynamite") – Combustible Metals such as Magnesium (Mg), Titanium (Ti), Zirconium (Zr), Sodium (Na), Lithium (Li) and Potassium (K).
Extinguishers: L2 & M28 Powder Only
Class F (EU) / Class K (US) (K for "Kitchen") – Cooking Oils such as in deep-fat fryers, animal and vegetable fats.
Extinguishers: Wet Chemicals Only
Fire Detection Alarm and Suppression System
AWSM will design, install, and do the maintenance of your fire detection and suppression systems using the best products from the industry's leading vendors to augment the performance, reliability, and commercial profitability of your business. We design, install, inspect, test, and repair all types of fire sensing & suppression systems for various fields fuels and materials such as gasoline, cotton, paper, and wood etc.
Our qualified inspection team inspects your fire safety equipment, without causing any inconvenience to your process or personnel. We can tailor our services to meet your specific operational requirements while remaining cost-effective. It gives you peace of mind to know that your system complies with all codes and will work properly in an emergency.
The main services which we provide are:
Fire Suppression System: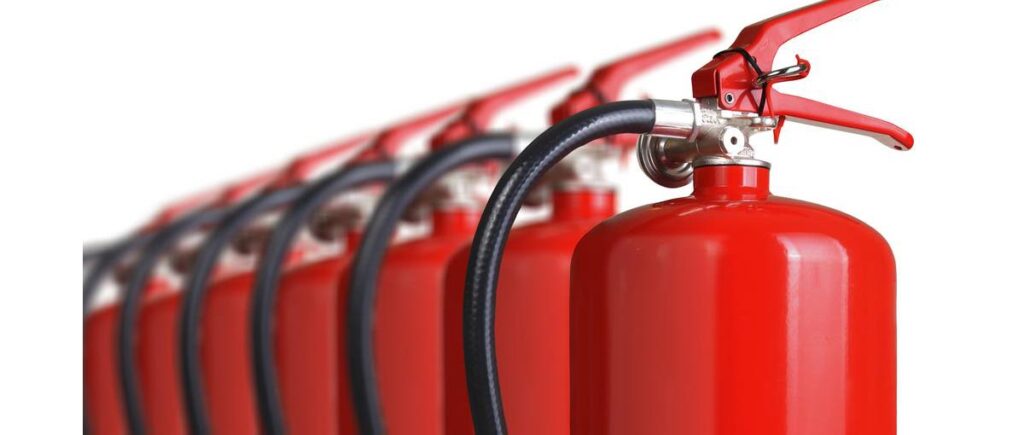 The fire suppression systems are automatic systems to control and extinguish fires without human intervention. AWSM is an expert in design and installation of Fire Suppression Systems with more than 20 years of experience. AWSM offers different fire suppression solution which are:
Fire Sprinklers
Water Spray System
Gaseous Fire Suppression System
Foam Fire Suppression
Clean Agent Suppression
Dry Powder Suppression
Wet Chemical, Cartridge Operated Dry Chemical and Dry Chemical Suppression
While sprinkler systems are the most prevalent type of fire suppression system, specific hazard fire suppression systems that do not use water are required in particular situations.
Maintenance and Alarm Monitoring to Help Ensure Fire Protection: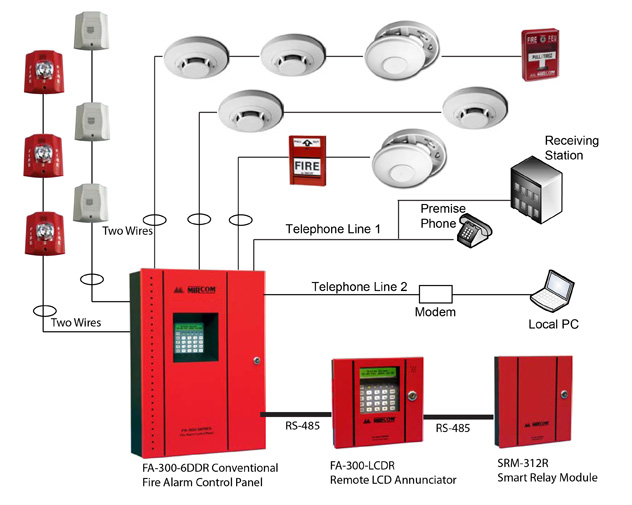 Monitoring and maintaining your fire alarm system is critical for ensuring the safety of your people, property, and assets. Whether you have a large industrial and commercial site or a small local business, we can build a fire alarm monitoring solution for your facilities and location to meet international criteria.
Engineered and pre-engineered fire suppression systems are two primary types of fire suppression systems.
Engineered fire suppression systems will assure the safety of an entire room. Substances that are safe for electronics and are safe to inhale without affecting humans are employed.
Pre-engineered solutions are used to protect small chambers or micro-environments. Engine compartments and electrical panels are two examples of applications for these technologies. They're also useful for putting out fires in CNC and EDM equipment. Pre-engineered fire suppression systems provide immediate response to fire during the initial critical minutes.
A pre-engineered system is usually divided into two types.
Active Detecting System:
Active detection involves a continuous search for heat or smoke, which necessitates the use of an electric power supply.
Non-Electric Detecting System:
In a non-electric detecting system, there is no electricity. In non-electric detecting devices, pneumatic detection tubing can be inserted within and throughout hazards. The pneumatic sensing tube is triggered when the heat rises. If the tube encounters heat or fire, it will burst open at the point of contact. It causes a pressure change throughout the system, telling the system to discharge fire suppression agents. Some of the agents that can be employed with these systems are carbon dioxide, dry chemicals, clean agents, and foam suppressants.
Direct Release System:
Direct release system in one of the pre-engineered fire suppression systems is recommended for micro-environments such as protection of electrical cabinets.
Key benefits of Direct Release System:
Because it does not rely on any metal components installed within an electrical enclosure, the direct release mechanism works effectively for protecting against electrical risks.  Electrical arc faults can be caused by metal components, such as nozzles, increasing your fire risk.  Because direct release systems rely solely on plastic tubing, the risk of fire is decreased. The section of the tube closest to the spot where the maximum heat is recorded ruptures during a fire, generating a spray nozzle. As the tube discharges fire suppression chemical from the cylinder through the spray nozzle (burst hole), the pressure lowers, effectively suppressing the fire.